De vakantie is begonnen en de kids hebben vrij. Of u nu thuis blijft of een dagje weggaat, de winkels van bakkerij Dukers blijven open gedurende de vakantie voor lekkere broodjes, verse croissantjes, verse vlaaien, gebak en nog veel meer lekkernijen om de dagen goed door te komen. Zo blijven ook de brooddagen gewoon in elke winkel dus ook dit voordeel hoeft u in de vakantieperiode niet te missen.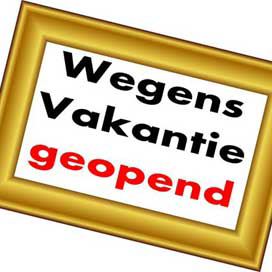 2 winkels, Elsloo en Bunde, zijn in de periode 9 augustus tot en met 27 augustus sluiten dan om 16.00 uur.
Via de webshop bestellen kan 24/7, alleen sluit de webshop om 16.00 uur voor bestellingen van de dag erna. Telefonisch kunt u dan contact opnemen met kantoor op 046 4260142.